"Very little on a fire rolls uphill."  ~Larry Wright.
I've been spending so much time on the recaps, I think that was part of my exhaustion, so I took 24 hours to NOT do anything on the Internet. Plus, Sprint is being mean to me so Internet has been a trial. Tonight I paid $10 extra for high-speed WiFi Internet at the campsite, so hopefully it will be faster with less painful uploads and wait times. (Edited to add: It was worse, if that is possible.)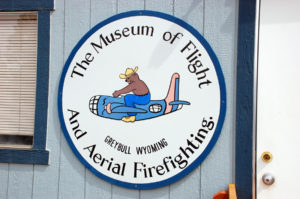 We left the Greybull Motel and drove to the Aerial Firefighting Museum (which confused me at first, because I thought it meant the Red Baron style of aerial firefighting, but soon figured out it meant fighting fires from the air). Len was giddy at the museum and I whispered, "This for you is like the dinosaurs for me." He looked around at the old planes and the giant boneyard of aircraft in the back field and said, "These ARE dinosaurs."
Among the planes, we found an old P-2, which I'm posting for my brother Tyler, predecessor to his Navy P-3 aircraft.
After the museum, we stopped at a small antique store on the way back to Greybull and bought a few small things. They had a fire hydrant from the Rensselaer Company out of Troy, NY. That one's for my girls with their Troy connections. We stopped by a pizza place in downtown Greybull (Greybull has one stoplight, just like my hometown, so I felt right at home) and had a "Cowgirl" pizza which was pesto, sundried tomatoes, artichokes, feta, and fresh mozzarella. So good.
After lunch, we checked in at the KOA in Greybull, disconnected from the trailer and drove around looking for trout streams to fish, then walked a mile or so on the berm that flanks the Bighorn River to keep excessive snowmelt from flooding the town. Then we drove more back roads and explored some non-touristy areas.
Out on an old haul road, we followed signs to Devil's Kitchen which turned out to be one of those spectacular, crazy places that are off the beaten path and you wouldn't even know were there. I'm not sure what created the Devil's Kitchen, but it sure looked like the remains of an old volcano, so sulfuric, irony, goblin-hobbit looking. Which begs the question: "What is cooking in the Devil's Kitchen?" Deviled eggs? Devil's food cake? Souls of the damned?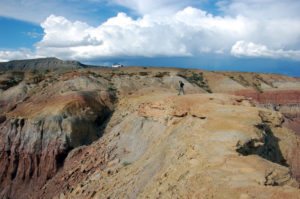 It was also incredibly windy there. Scary-windy, since the edge was precipitous and crumbly. Len actually walked out on one of the knife edges and took a picture looking back at scaredy-cat-me who only made it partway out (holding my hat and leaning into the wind), with the Jeep even farther behind me on safe ground.
After the Devil's Kitchen, we drove all over Hell's Half-Acre exploring the countryside and doing Jeep-y things. Len kept driving off-road saying, "I'm filming a Jeep commercial!" Then we returned to the campsite hungry and finished off the leftovers from last night's Mexican restaurant (NOT El Diablo's Cocina) along with some other odds and ends. I didn't open a Coors, but I did have some Yogi Tea which had a message for me. Picture of that tomorrow.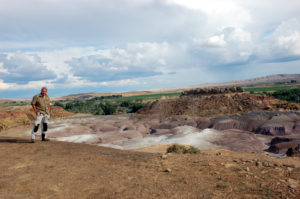 It got extremely chilly once the sun went down, so we climbed into the cabin early and read/wrote in our cozy little space while a nearby railyard kept connecting rail cars all night long. Lord have mercy, that is an unnerving sound. Each connection created the sound of a horrifying crash that reverberated down the line of cars and you could feel it in your bones. Not sure I could get used to that sound as the background of my life.
Next up: Medicine Lodge Archaeological Site