We packed up and left the Golden Gate State Park site, which was a perfectly acceptable campground site despite my meltdown. It was windy the whole time and all of the pine trees were shedding pollen and dust was flying, so most of our clothes and belongings (including this laptop) are now adorned with a fine golden powder. The campground area was called Reverend's Ridge, and we thought of you, Reverend Leonard. We hit a Panera's to make yesterday's post and check email, then hurried on to meet our friends Frank and Carol Keeney in Lakewood, where we were treated to a marvelous (FRESH) lunch and great conversation and catching up.
After lunch, we got gas, bought more ice, made some changes to our upcoming campsite plans and reservations, then drove to the new campground (Mueller State Park) which was so awesome. We were in the Revenuer's Ridge campsite area, in site number 21,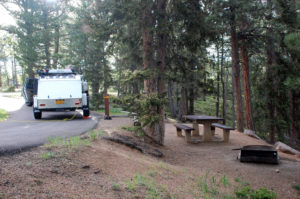 which is right near the showers (but not too near) and water, and some areas with a view. Plus we have a recessed area with picnic table that is out of the wind and more private. We had to level the trailer jsut a bit, but that's more common than not.
Dinner ensued fairly quickly, a one-pot meal of ground beef, scallions, and instant mashed potatoes which we doused liberally with Wegman's hot sauce. We've had Wifi here the whole time (with the help of our private hotspot) and so I was able to upload a few more pictures and post to Instagram a few times. I used my selfie stick twice in one day (and Len tried it, too) and I'm starting to get the hang of it. The evening was wonderful and relaxing and we got a little bit caught up, although moving the campsite every day continues to be hectic and time-consuming. I'm looking forward to three days in The Valley of the Gods.