BONES OF AN INLAND SEA
Book Club Edition
Leslie is a marine biologist, an only child, and a mother of three who gets caught in a deadly tsunami. Jack is a Viet Nam veteran with PTSD on a mission to save fish from dying in captivity. Dani is a trans man struggling to find his way in a gender prescriptive world. Mary Akers brilliantly weaves together these three lives alongside a host of other characters with whom they cross paths. This brand-new Book Club Edition delivers an assortment of supplemental materials designed to generate lively discussion, including a signature cocktail recipe, an author interview, and a completely new final story that offers a speculative glimpse into the future. At once evocative and captivating, Bones of an Inland Sea is a powerful work of imagination and transformation.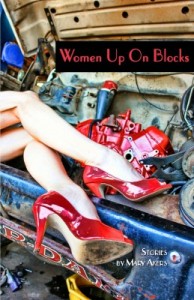 WOMEN UP ON BLOCKS
Short Stories
Whether it's a young co-ed who has lived her life succumbing to passion and authority, a woman struggling with the intense demands of motherhood, or a newlywed whose new mirror-filled home proves too much for her fragile psyche, these thirteen stories—edgy and alluring—inexorably peel back the layers of the women they portray. By turns, lyrical and haunting, plainspoken and frank, award-winning writer Mary Akers' finely crafted debut collection WOMEN UP ON BLOCKS explores the price women pay when they allow the roles of wife, mother, daughter, or lover to define them.
ONE LIFE TO GIVE: A PATH TO FINDING YOURSELF BY HELPING OTHERS
Non-fiction
In the winter of 1939, five-year-old Andrew Bienkowski was exiled to Siberia with his family. The two years of struggle that followed—especially his grandfather's amazing act of sacrifice during their first long, cold winter—have informed the rest of Andrew's life. Thanks to his devoted mother, his quick-witted grandmother, and the unexpected kindness of strangers, Andrew established an approach to life that emphasizes helping others as the essential path to finding our greatest human fulfillment.